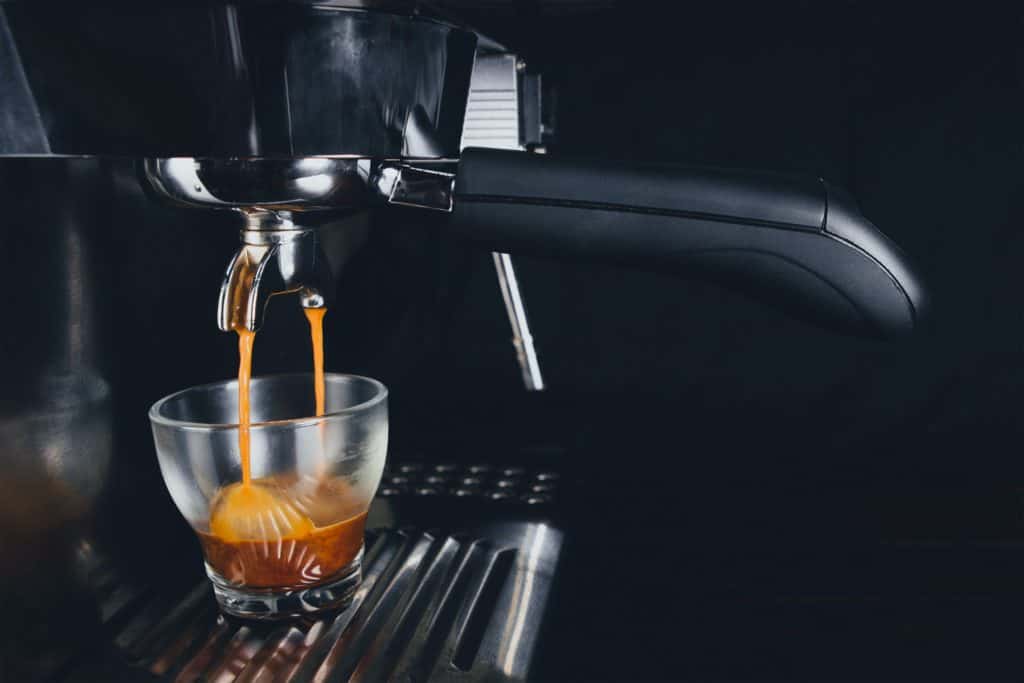 If you are looking for the best espresso machine that will come close to duplicating what you get at your local coffee shop, you are probably asking yourself, how do you pick the right one with all the choices that are out there today?
Since its such an important decision, I am going to take alot of the guess work out of it and talk about what is the best espresso machine to buy depending on your budget, where in your kitchen you are going to put it and what you want it too look like.
After talking about what to look for in a home espresso machine I will give you my top 5 picks to save you some time and effort when deciding which one best fits your needs.
Best Espresso Machines for the Home
1. Breville Barista Express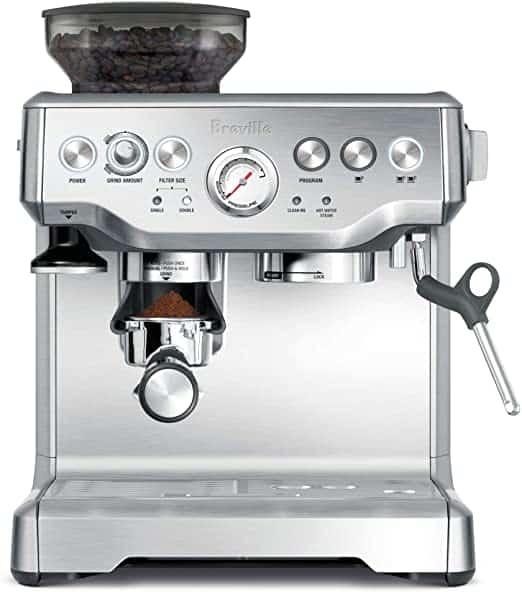 I really enjoy using the Barista Express, in fact its currently my favorite. I like the design touches like the "empty me" floater, the magnetic tamper holder, tool tray and having a pressure gauge.
Once you get used to using it (learning how to dial in a shot, use fresh beans, clean and descale regularly) you can get better than average to great shots fairly consistently.
PROS
Easy-to-use and compact
Superb Build
Default settings are good
All accessories are included
Comes in variety of colors
CONS
Pricey
All parts should be cleaned by hand
Expensive water filters
2. Breville Bambino Plus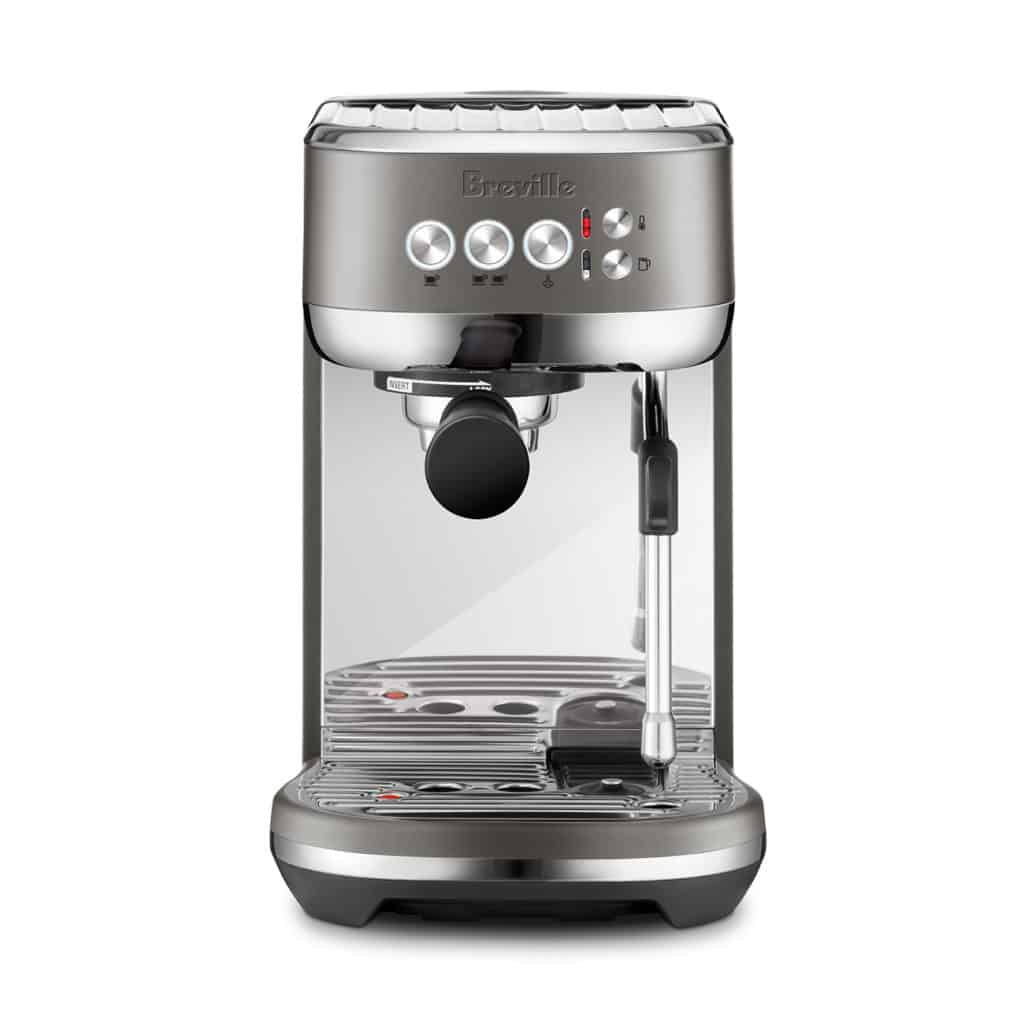 I like the Bambino due to its consistently good espresso. I also like the low cost and the modern features you get with it. Additionally, it comes with programmable dose buttons and temperature control, it gives me the best chance of pulling decent to great shots every time.
I also like the milk frother that allows me to get pretty decent foam straight away without the steep learning curve.
Pros
Small footprint for small or minimalist kitchens
Beautiful design
Removable drip tray
3 second heatup
64 ounce water reservoir
Cons
Fewer bells and whistles such as no pressure gauge
Expensive
Small drip tray
Need to get separate grinder
3. De'Longhi EC680M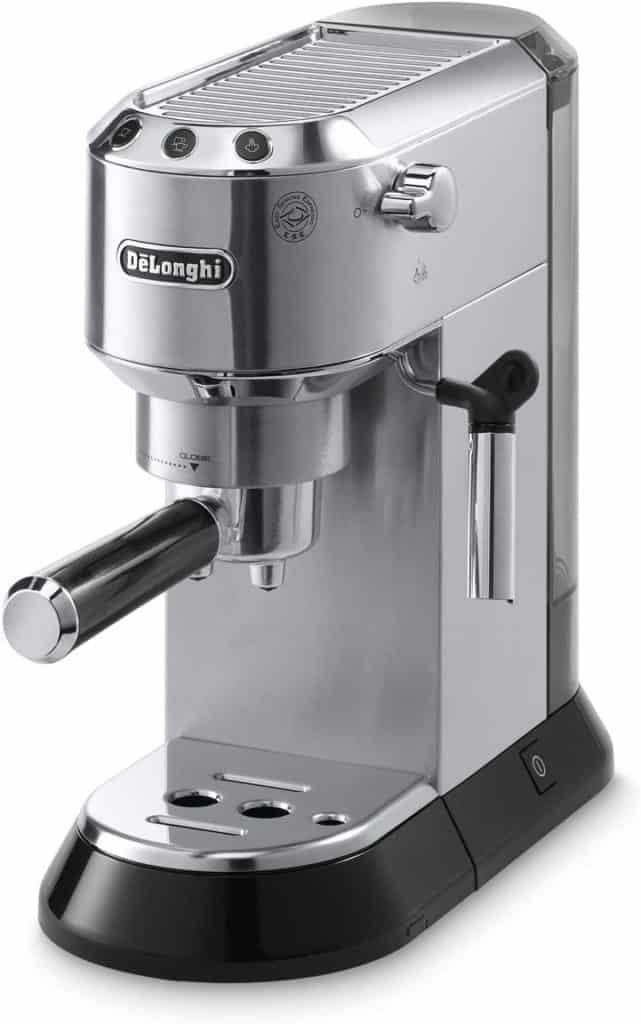 The Delonghi size is perfect for most countertops. It is very narrow yet large enough to stay steady and to hold a good amount of water in resevoir and you can easily switch between single or double shot.
The quality and build is good, it is very heavy and almost everything is made from metal. Only thing that could be changed is if you want to put a coffee mug directly under the output you will need to pull out the drip tray at the bottom. This is not a big deal, but would be nice if it was a little bit taller.
The cleaning/descaling has a reminder by using a flashing orange light which can be helpful for those who can be somewhat forgetful at times.
Pros
Heats up fast
Accommodates taller cups if you remove the drip tray
Easy to use and clean
Affordable
Compact
Cons
Could use a better milk frothing wand
Water tank is in the back so it's hard to see when your low on water.
It can be overly loud
No Grinder
4. Gaggia Classic Pro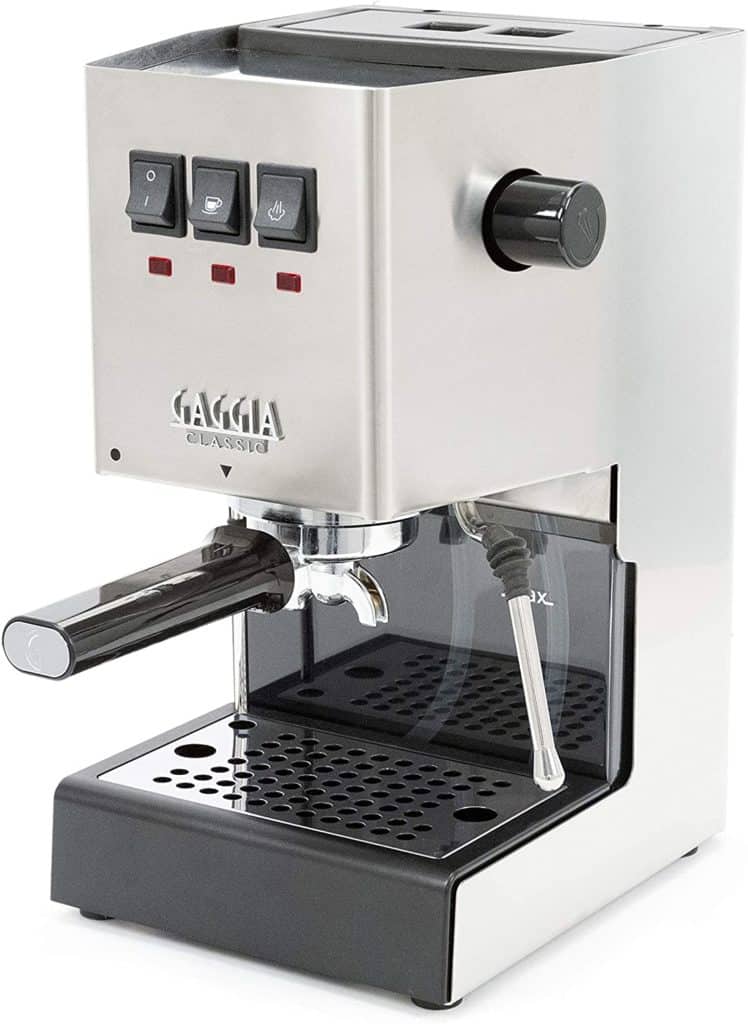 This is great machine that I think most people will like. With a quick and easy learning curve, you will get espresso that comes out decently rich and bold. If you are looking at making lattes and cappuccinos, the steam wand, can be a bit weak.
Its also very capable of making decently foamed milk, but doesn't have enough power to make the necessary foam to make a perfect latte. So it just depends on how picky you are with this. Its ease of use and ease of cleaning also could be improved but nothing that should make you not get it
Pros
Great starter machine for exploring the world of coffee
Extremely convenient and easy to use
Sturdy build
Cons
Steaming wand is unreliable
Space between the portafilter and drip tray is quite small
5. Rancilio Silvia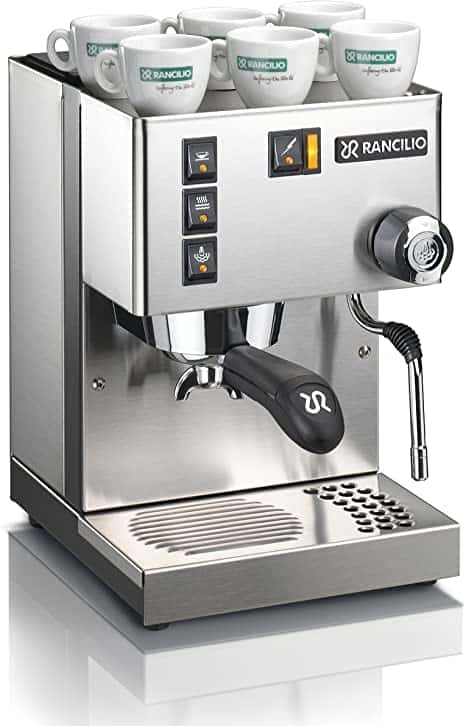 The Rancilio Silvia is getting close to a professional level espresso machine. This means that quality is fantastic but you will need some experience in pulling espresso shots to use it effectively.
The Silvia also gives you the ability, for better or worse, to customize every aspect of the espresso making process. This includes from the grind size to how long to pull the shot for. This customization is great if you've already pulled your own shots before and and want to mess around to try and find the best flavor. If you fall into this category then this machine would definitely be the way to go if that is what you're after.
However, this model doesn't come with a grinder and could overwhelm a newcomer and likely make your espresso experience disapointing. If you're new to making espresso I would recommend the Breville Barista Express.
Pros
Highly simplified interface.
Fully articulated steam wand.
Includes a wide diameter portafilter.
Descaling and backflushing are simple.
Cons
No pressure gauge.
Need a separate Grinder
Expensive
No Programming
Semi Automatic Espresso Machines
There are alot of different types of espresso machines out there such as fully automatic, travel espresso makers, the famous pod espresso machines (think Nespresso) and what you see in your local coffee shop, a commercial espresso machine.
In this espresso machine review, I am going to cover the semi automatic espresso machine which lets you do most of the work ( and fun) but still let the machine take care of the hard parts and which is what many people think of when getting a espresso machine for the house.
With a semi automatic espresso machine, you will setting how much coffee you want to use, how hard or light to tamp the coffee in the portafilter and how much water you want to use for your espresso by being able to stop the brewing when you want.
Types of Beans to Use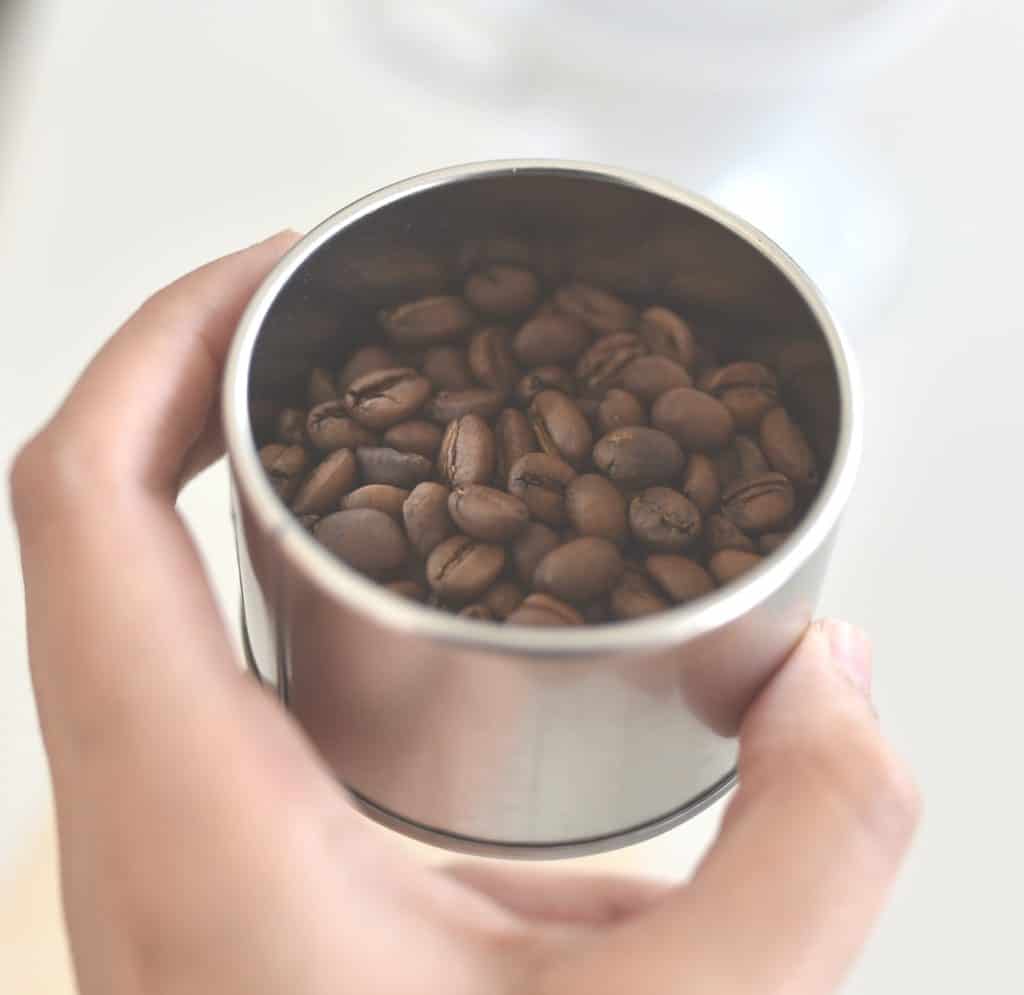 Many people have the misconception that you have used a certain roast for espresso as you will see on some bags of coffee the title of "Espresso Roast". However, you can use any type of roast or origin for that matter for espresso. For example, you can use a light, medium or dark roasted coffee and or a coffee from Colombia, Ethiopia or Costa Rica.
In my case, I have found the best tasting coffee's for espresso are usually medium to a medium dark roast ( fresh roasted, of course). The way a coffee is roasted and where its from is simply going to affect its flavor profile. Just try different types of coffee roast levels and from different countries to see which one you like the best.
Grind Consistency
This is, without a doubt, one of the most top variables when it comes to making espresso and is one of the most important deciders on how your extraction is going to be great or on the flip side, very tasteless and boring.

For example, if the espresso machine you use grinds the coffee too coarse you are going to end up with a coffee that is sour and acidic. So therefore, one of most important aspects when looking at home espresso machine is the grinder.
Tamping The Grinds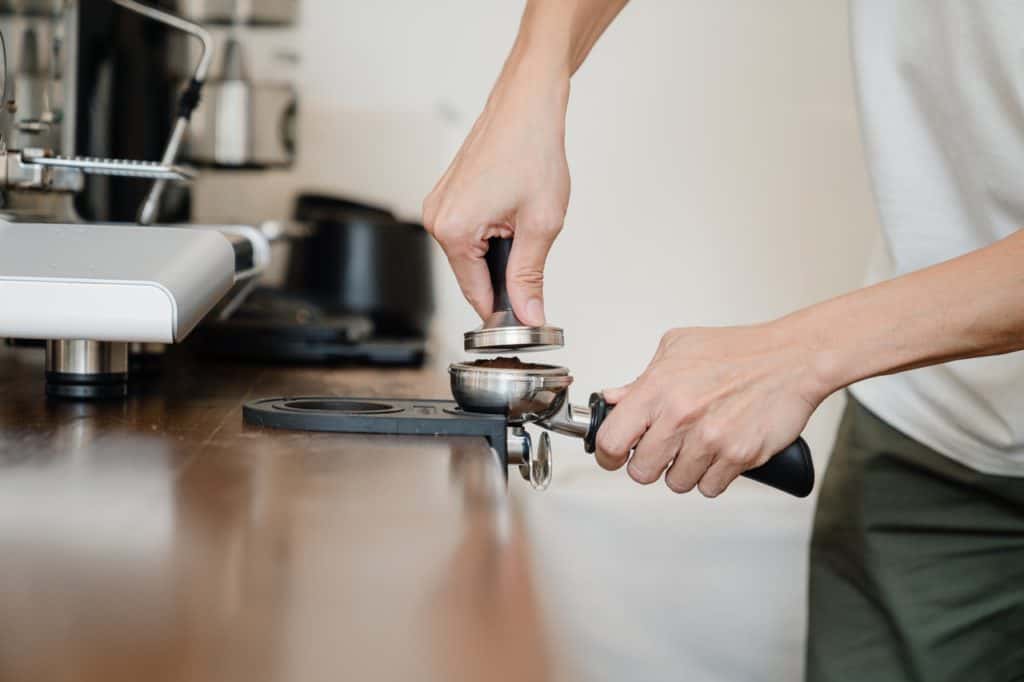 Once you ground your coffee into your portafilter, the next thing you will need to do is tamp the coffee. On most home espresso machines when the coffee is ground into the portafilter you will be left with a small mound of coffee. You should tap the portafilter gently on a table in order to level it out a bit.
With tamping, the most important part is to make sure you have a level coffee bed that is as even as possible. This means you don't want the coffee to be higher on one side then the other side when looking at it.
In order to get this type of even coffee bed, you should grab your tamp like you would a doorknob with your elbow pointing straight at the ceiling.. Then you will press down hard, but not too hard. The key is to use consistent and even pressure every time you tamp the coffee.
Pulling a Shot
This is the fun part of making espresso. When you are brewing a double shot of espresso the time it should take from the when you press the button until the shot is poured, should be between 25 – 30 seconds. You will have a good idea of this when looking at the pressure gauge on your espresso machine, it it has one.
Since there are so many variables to consider when aiming for this time frame, the most important way to tell if it was done correctly is by taste.. If it tastes good to you, and doesn't have a sour and salty or extremely bitter then you have done a good job. If not, then you just have to play with the grind size, tamping technique and extraction time to get what tastes best for you.