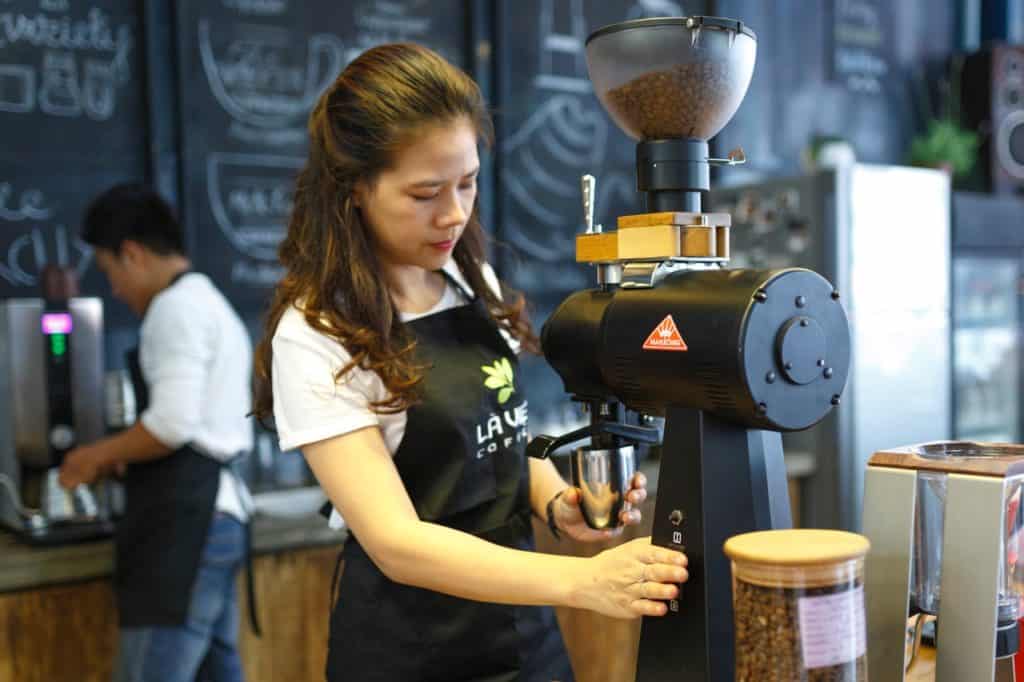 A Barista is a person that has extensive knowledge of coffee from around the world and is able to consistently brew coffee using a variety of brewing methods in order to bring out the inherent qualities of the coffee beans.
Baristas are becoming more and more popular in the food and beverages industry. But who are they? If you have ever gone to a coffee shop and saw someone preparing and serving coffee drinks, he or she is a barista.
In the United States context, though espresso-based coffee drinks are the ones that take much emphasis here, coffee shop employees who prepare and serve regular coffee drinks also fit into the category of being baristas. Just like in any other profession, being a barista requires one to have a particular training and set of skills to serve customers.
Given the amount of competition in the industry, one's service skills have to be superior. Learn more about being a barista below.
The Job of a Barista at a Specialty Coffee Shop
Normally, baristas work in coffee houses, coffee shops or coffee bars. As the word working suggests, a barista operates commercial espresso machines instead of home espresso machines.
In addition to the preparation and serving of espresso-based coffee drinks, baristas do other duties including: taking orders, greeting customers, completing transactions, keeping inventory and pricing items sold in a coffee shop.
You might think that the job of a barista is simple, but this is not always the case. Operating a commercial espresso machine is not always an easy job.
The truth is that these machines range in difficulty. They can either be manual or automatic machines. Operating the manual ones can be complicated and may require a high amount of skill and training.
Also, baristas have to put in mind several important factors as they do their work. To begin with, they have to adapt to the different types of coffee they make so as to meet the required standards of each.
Failure to do this translates to customers not getting the satisfaction they are looking for. Moreover, they have to consider the day's weather conditions and the preferences of their customers.
It's important to note that baristas need to learn how to prepare and make different types of coffee drinks. Some of these coffee drinks include: Cappuccino, Pour over coffee, Drip coffee, Latte, Espresso, and many others. The more knowledge and skills baristas have, the more they succeed at what they do.
Training of Baristas
A barista training course can come in handy for anyone desiring to become a barista. However, it's notable to highlight that, in most cases, there are no educational requirements needed for one to become a barista. Fundamentally, coffee shops opt to do on-the-job training for those willing to pursue an interest in this line.
The training is usually intensive because of the demands expected in this work. Experienced employees train new employees on the skills, practices, and ethics of being a barista. Most coffee shops prefer their baristas to be at least 18 years old because of the complexity of the machines they will be using and the demanding job environment exposed to them.
Part of the training that a barista goes through include: roasting beans, machine hygiene, steaming milk, and coffee making techniques. Other skills that baristas need training in are: listening skills, customer service, effective communication, and organizational skills.
When they are looking for baristas to work at their coffee shops, employees are keen to spot individuals who are flexible, willing to learn, and ready to adapt to the dynamic environment of the business. If a prospective barista acquires the required training and satisfies his or her potential employer, one can start working.
Generally, being highly skilled in this field is important. For a barista, learning is a continuous process as one keeps working, but the basic knowledge is vital for one to start.
Specialty Coffee Barista Competitions
Indeed, being a barista is not only an opportunity to earn money, but also a platform for one to do something out of passion. That is why, as mentioned earlier, baristas are becoming more and more popular as the beverages industry continues to grow in prominence.
The industry has become very competitive, with baristas going the extra mile to improve their skills and knowledge. For them, they know that the more skilled, knowledgeable, and exposed they are, the more they grow in their work. It is because of this that barista competitions have become important.
Local and international barista competitions are held to give baristas a platform to show their skills and competence in their work. Internationally, the World Barista Championships bring together baristas from different parts of the world for them to demonstrate their level of excellence and expertise in making coffee.
Competitors are supposed to prepare 4 espressos, 4 milk drinks, and 4 unique drinks within 15 minutes. The beverages have to meet the required standards.
United States Barista Championship
In the US, the United States Barista Championship gives baristas an opportunity for them to improve their skills in making espresso-based drinks. The competition is both a challenging and exciting one. The competitors have to make and serve espressos, cappuccinos, and an originally designed drink within 15 minutes.
The baristas are evaluated on their preparation abilities. Those who emerge winners are the ones that satisfy judges in the quality of their preparation. These competitions are a crystal-clear indication that baristas work in a dynamic and highly competitive market that requires them to be competent, highly proficient, and professional in what they do.
Final Thoughts
Certainly, just like any other profession, a barista carries a great deal of significance in the market. The beverages industry is growing with every passing day. And this means that those who work in the industry have to grow as well. As a result of this growth, there is an increase in demand for baristas.
Specialty Coffee businesses are looking for competent people to work in this line of work. If you are interested in becoming one, you have a great opportunity to join the ever-growing business environment.
What you need is to learn as much as you can and, of course, be willing to grow into the market. Due to its competitive and robust nature, the market requires baristas to be highly-motivated, energetic, and vibrant.