Pour Over Coffee makers do an amazing job brewing coffee and have a lot to offer! However, when it comes to deciding which one is the best for you, the top pick is a hard decision.
The 6 Pour Over Coffee Brewers I have listed here make excellent coffee additions to any kitchen, so any one of them will be do the job. However, every one of these pour over coffee makers will be different from each another, whether that be in size, appearance, price or all of the the above.
Lets take a look at each one of my 6 recommended pour over coffee makers so you can figure out which one will be the right choice for you.
The 6 Best Pour Over Coffee Makers
1. Melitta Ready Set Joe Single Cup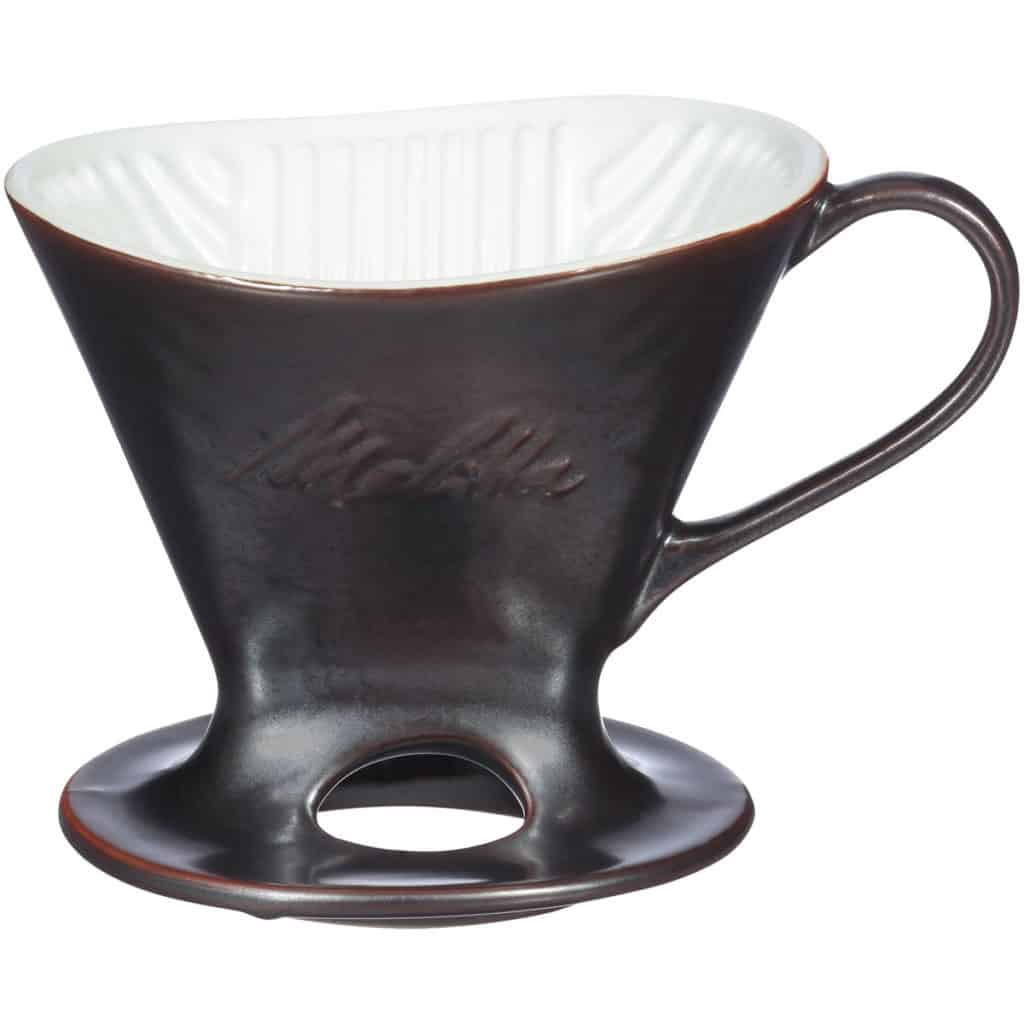 This is very affordable at around $22 on Amazon and is a high quality No-frill coffee brewer. Even though it looks simple, (because it is) don't be concerned, it makes a great cup of coffee! The plastic version is good for travel but you can also get a ceramic or glass one as well if your just going to use it at the home or office.
Due to the single small hole that is especially small, you might find that it drains slightly slower the other mentioned here.
The Melitta comes ready to go with the filters included so all you need to do brew into your favorite coffee mug using some fresh roasted coffee! (from a local roaster hopefully)
Its makes only a single cup, so, if you need something larger there are other options below.
2. Hario V60 Ceramic Pour Over Coffee Dripper
The V60 is is a great home brewer for those looking to make just a single cup of coffee. ( although you can get it larger sizes such as 2, 4, or 7 cup) It comes in few version bu the plastic and ceramic are the most popular.
The plastic one is great for travel ( just like the Melitta) but the ceramic body keeps the heat in the dripper through the whole brew cycle.
Keep in mind that brewing with a V60 can be less forgiving and may not be for those just getting into pour over coffee. If you watch the video above, it will help a lot in learning how to brew with it (and others as well)
It goes for about $22 on Amazon. If you have done pour overs before but not with a V60, its well worth the investment.

For an in depth look at how to brew coffee with a v60 compared to a Chemex check out this post I did.
3. Bodum Pour Over Coffee Maker with Permanent Filter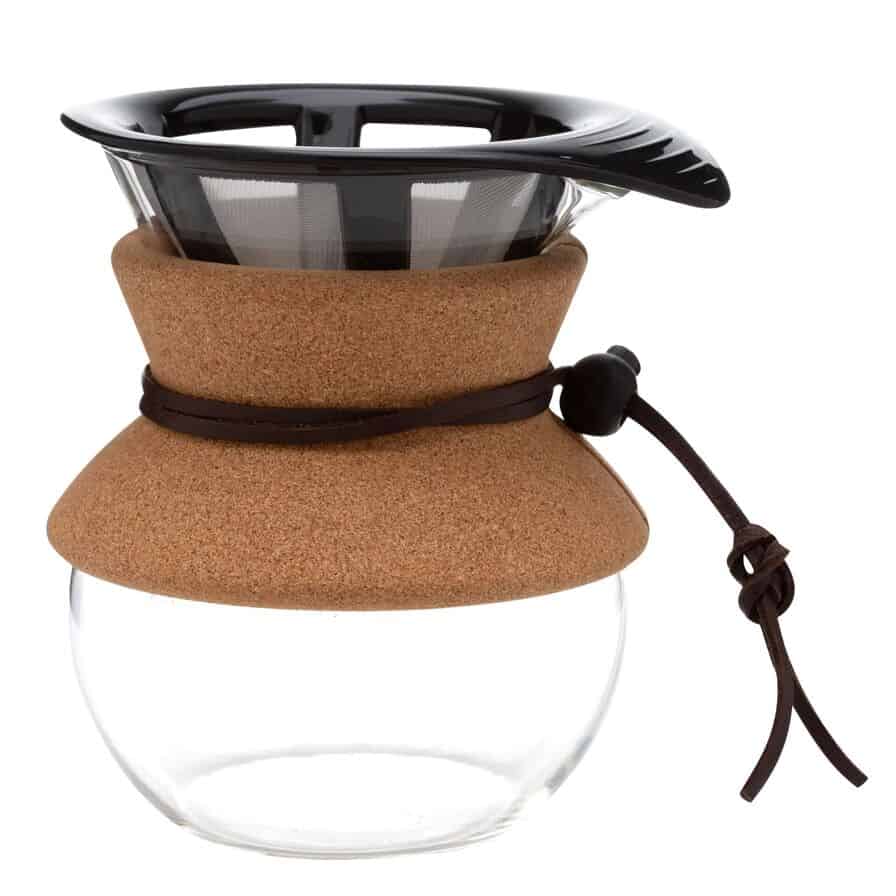 In contrast to the V60 The Bodum pour over coffee maker comes in three sizes, and up to 51 ounces and only in glass. This makes it good for offices or if you have friends and family over. (or your just a serious coffee drinker).
It comes with a reusable coffee filter (eco friendly) and rubber or cork collars for easier pouring. It also comes with a measuring spoon, so you can accurately measure out your coffee beans It goes for about $24 on Amazon for the cork version. The rubber version is slightly less expensive
4. Chemex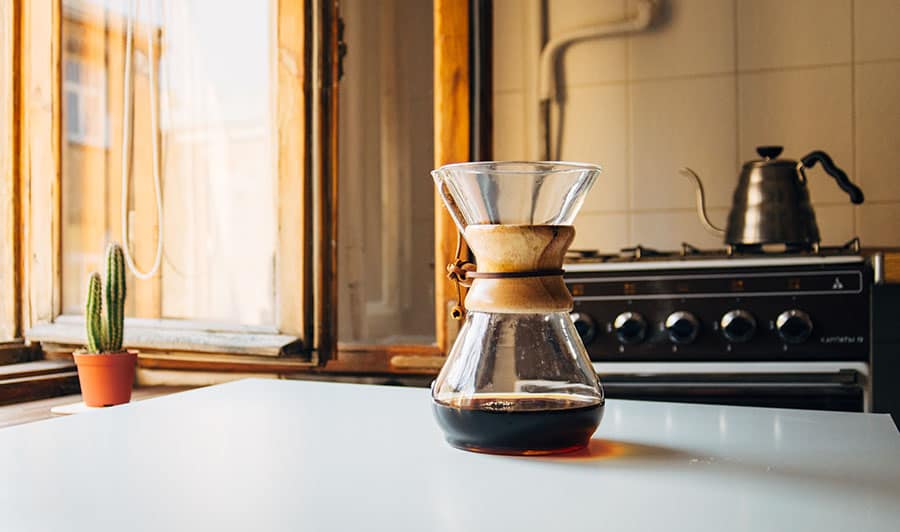 The Chemex brewer is a true classic, with a beautiful design that includes nice touches like the polished wood collar, with a leather tie, to not only keep your hands safe while pouring but it also looks great at any get together.
It only comes in glass but there are a few size options such as 3,5,8,10 cups and is generally used for small groups. The Chemex costs about $42 on Amazon but varies depending on the size.
If you want learn the finer details about brewing coffee with a Chemex check out this post I wrote
5. Coffee Gator Paperless Pour Over Coffee Maker
What's nice about this pour over brewer is that you don't need any paper filters since it comes with a stainless steel one. You could always add a paper filter as well, if you want to take out more of the coffee oils.
The flavor you get from the coffee gator is nice and clean and doesn't take up alot of space on the kitchen counter.
The BPA Free glass coffee maker comes in 3 different sizes from as small as 10.5 ounces up, to 14 ounces and finally one at 27 ounce sizes.
The price for the smallest one starts at about $22
6.Bee House Coffee Dripper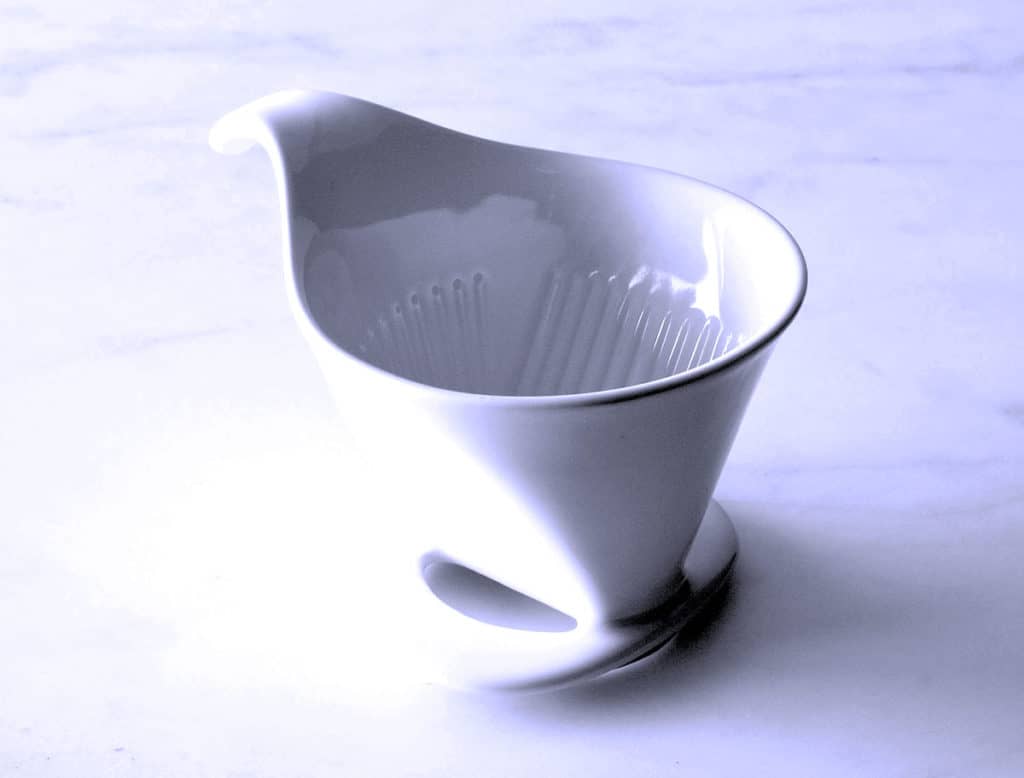 The Bee House Pour over dripper is famous for its simple design and how easy it is to use. Similar to the V60, its for a single cup of coffee.
Its a great "starter" pour over brewer for those just getting into this type of coffee maker as its more forgiving then other methods such as the V60.

Compared to other pour overs listed, you may find it brews coffee a little quicker because of the two holes at the bottom. Also note that it does not fit on top of larger sized coffee mugs.
The cost for one is about $20 on Amazon and come in variety of colors.
If you want learn the finer details about brewing coffee with a Bee House Dripper check out this post I wrote
How to Choose A Pour Over Coffee Maker
There are a lot of things that go into choosing a Pour Over Coffee Brewer. So, before getting one, it's best to know where you are going to use it. Knowing what you want from him or her is great. It's even better to know what you are willing to give to him or her. Make a list of attributes you want, and things you can handle.
If you have already made the decision that you want to start making coffee with a pour over brewer awesome! There are so many pour over brewers out there today, so it's necessary to narrow down the list a little.
Here are some questions that you should ask yourself before deciding on what pour over you want:
How much coffee does it need to make?
Am I am going to use it at home, the office or for travel?
How easy is it to use?
Will I be the only one brewing coffee with it?
How long does it take to brew?
Do I want one that is more "forgiving" when brewing?
Do I already have another type of coffee brewer?
What else would I need to brew coffee with these pour over coffee brewers?
Final Thoughts
Any one of these pour over coffee brewers will improve the taste and bring out the flavors of your favorite fresh roasted coffee. Just pick out the one you think is best for you and get brewing!
If you want see what other coffee equipment that will help you get the perfect brew, check out my post on brewing better coffee at home. Also to get an idea on what grind size you need for each one of these pour over brewers, take a look at my ultimate grind size post
Also note that I highly recommend using a goose neck kettle with any of these pour over brewers because it makes it much easier to control the water flow over the grounds.