What is a Chorreador de Cafe?
The chorreador itself is a simple device made from a wooden or wire stand and a sock-like piece of cloth, called a "colador" or "bolsa" held open by a wire or wood rim.
The first time I saw coffee made with a Chorreador, I was going to school in Costa Rica and the family I was staying with, every morning, made coffee using what I considered at the time as a "coffee contraption". I remember how simple this coffee brewer was and how great the coffee tasted.
The Chorreador is a way of making coffee that has been used in Costa Rica for hundreds of years. It is one of the best and easiest ways to make coffee that I know of.
At my coffee roastery and shop, I had a simple wood one one prominently displayed and it was always a great conversation piece for clients that came in as they always wanted to know more about it such as where it was from and how coffee is made with it.
In order to brew a cup of what many consider world's finest coffee with a chorreador a is fill the cloth with your desired amount of coffee and slowly pour boiling water over it, and let it drip in your favorite coffee mug!
It's perfectly normal for the cloth filter to turn brown, but this will not affect or change the taste of the coffee. It's a simple concept, but the control it gives you over the flavor and strength of your coffee is unbeatable.
What does Chorreador mean?
The word chorreador comes from the Spanish verb, chorrear meaning to drip or trickle. Before the popularity of modern brewing machines and methods almost every building in Costa Rica used a chorreador to make coffee.
Types of Chorreadors – Wood and Wire
As the chorreadors have become more popular there have been a lot of variations of this simple brewing method but the two main styles are still Wood and Wire.
Wood Chorreador
The wood chorreadors are the most popular ones that are bought by most of the tourists that visit Costa Rica. I think the main reason being is that they look very tropical looking and are great conversation piece when they get home and start brewing coffee with it in front of friends and families.
This type is made of all different types of sustainable woods from Costa Rica and depending on the wood used will depend on the price. One of the more well made ones is from a place called CRWOODCRAFT and you can see their designs on Amazon
Wire Chorreador
The wire ones are more the everyday type of chorreador. What I mean by that is that is very basic and very light and is not a "show piece" . Its there is just to do its job of holding the cloth filter in place.
It very inexpensive and not something you would find in typical Costa Rica souvenir store. You will find them in mostly small mom and pop stores and maybe even a supermarket are or 2.
They are great for traveling as they are super light and can be taken just about anywhere.
What is the Best Coffee to Use?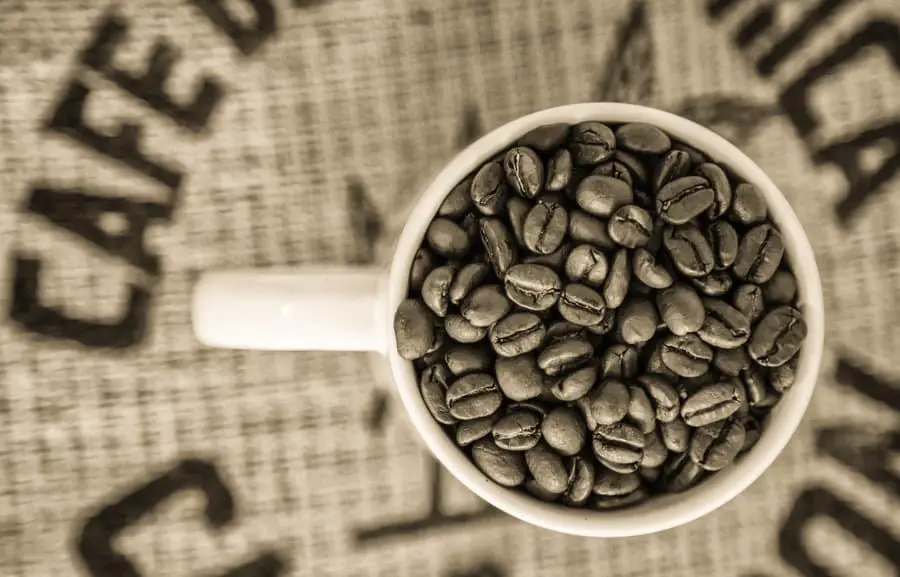 I am sure its comes to no one's surprise, that I am going to recommend using coffee from Costa Rica, the most famous being Cafe Britt (the best prices found on Amazon, of course) but in reality you can use any coffee you want depending on the flavor profile you are looking.
For example, Costa Rica coffee has great body, often full, and a rich, robust flavor and crisp acidity. In particular the best high-grown coffees of Costa Rica are known for their fruity and bright acidity with a clean and crisp taste.
In order to get this taste profile, I am going advise that you have buy fresh roasted whole bean coffee from a local roaster and that you grind your coffee just before brewing. You can check out my post on home brewing for more tips and suggestions.
I would also suggest that you try to use a light to medium roast because the will bring out the true flavor of that coffee ( this could be good or bad so get good coffee!!)
After that all you need to do is grind away. I would use a medium fine grind and use 15 to 1 ratio (coffee to water).
Brewing Coffee in a Chorreador
Once you have done that lets gets into the actual brewing process. The brewing process I am going to take you through is similar to making pour over coffee with a V60 or Chemex and should take about 4 minutes from start to finish. So, lets begin:
Essentials
Chorreador
Cloth Filter
Burr Grinder
15g of Coffee
250g of water
Step By Step Brewing Instructions
Place a heat resistant container or mug under the Chorreador and hang the pouch in the hole on top.
Before you use the fabric filter or pouch, rinse it thoroughly with clean water (no soap please) and drain it.
Grind your 15g of coffee using a medium grind size
Heat the water to between 195 – 205F. If you don't have a kettle with a temperature gauge, then just bring water to a boil and wait 30 seconds.
Place the ground coffee beans from Cafe Britt or from your local roaster in the pouch.
If your using fresh roasted coffee, pour in 30g of water. wait 30 seconds while the coffee blooms
After slowly adding the the remaining 220g of water freshly brewed coffee will drip through the pouch into a bowl or your favorite mug. This should take about 4 minutes
Once done listo! sit back and enjoy!

* If you like your coffee stronger, just adjust your coffee for water ratio. For example, you may want to use a scale to measure out a 13 or 15 to 1 water to coffee ratio
Cleaning a Chorreador
Maintaining or cleaning a chorreador is almost as easy as the brewing. Just rinse the cloth filter in warm water after each use. NEVER use soap to wash the bolsita. Instead, gently rinse the device and let it air dry.
Note: don't worry if the filter begins to turn brown, this stain is totally natural and to be expected
I would recommend that if you use it everyday that, once a week, clean the chorreador with salt. Run the bolsita or more commonly known as "the sock" underwater then pour a handful into it and rub it in. Make sure to rinse the filter thoroughly before letting it dry.
If the filter starts to look very dirty replace it. Bolsitas can last anywhere from three months to three years.
Where and How to Buy A Chorreador
If you aren't lucky enough to be in Costa Rica to buy either the wire or wood version, you can always go to Amazon and get one from there. You will have plenty of choices depending on that you are looking for but make sure you get one that has strong side wood supports.
Also, check the height of the one you are looking to get, to make sure you have enough space to fit both the size "bolsa" you are going to use as well as the container or coffee cup you will use.
As I mentioned earlier, One of the best Chorreador's out there and one you might want to take a look at is from a company called CRWOODCRAFT . They are handcrafted, are really nice looking and will last you a very long time.
Happy Brewing and Pura Vida!