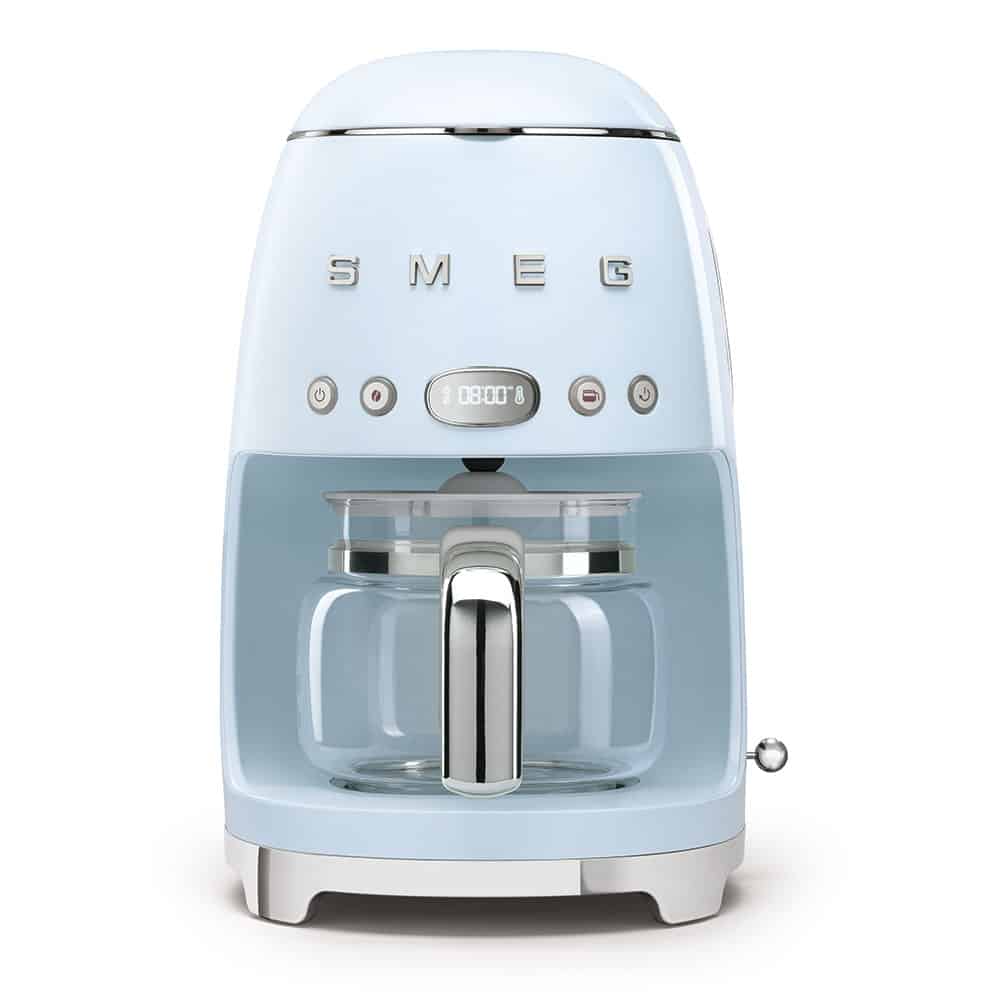 Smeg is a reputable company that is known for its unique designs and quality coffee makers, but are they good enough to buy? I have some experience with Smeg products and have done some additional research on Smeg and here is what I found.
Smeg Coffee makers have a far superior quality than other cheaper brands such as Braun, but they still have their issues. Problems with the amount of counter space it takes up, the relatively small pot size and frequent descaling can be problematic. Overall though, Smeg Coffee Makers are well worth the price.
If you've had your eye on this machine but haven't taken the plunge yet, be sure to keep reading and let us tell you all about our experience with it. 
A Review of the Smeg Coffee Maker
Let me start by saying that although the Smeg Coffee Maker does have it's issues, my family and I overall, really enjoy this drip coffee maker Rockwood. From it's retro exterior to its ease of use, the Smeg coffee maker is overall a great purchase.
Appearance
Starting with the exterior first, let's talk appearance. Just from looking at it, you can tell that great care was taken to design a machine that is easy on the eyes – this coffee maker is stunning.

It has a retro vibe that fits into the atmosphere of virtually any kitchen with ease, giving the room just a hint of classic style. Its available colors are another factor that make it appealing, with the product available in a variety of cool colors including cream, mint green, light blue, and black. 
Size
Due to the rounded, retro style, the Smeg brewer is quite a bit bigger than most traditional coffee makers. In order to really enjoy it, you need to have a dedicated and decently sized space for it.

If you're worried about space or you know that you have a small counter top, it might be a good idea to measure your space and compare the numbers with the dimensions of the Smeg machine beforehand.

One plus is that the coffee maker features anti-slip feet on the bottom, which is great for households with children or pets who like to peruse the counter when no one is home. 
Taste
Alot of this depends on the what coffee you are using and if you get it fresh roasted (from a local roaster, if possible). If you're a coffee addict like me, taste will likely be the most important factor. If this is true about you, you'll probably have noticed the way that plastic coffee makers give the coffee inside a subtle taste. Well, good news – there's no need to worry about that with the Smeg coffee maker.

It brews a pot of clean, good tasting coffee that is free of after tastes. As we got into our second and third cups, we found that each cup tasted just the same as the first in terms of it taste and smoothness. 
In addition, I found that with this coffee maker we actually get away with using less coffee per pot while still getting a great taste, which is a major bonus in my books. 
Auto Shut-off
Whether you forget to turn your coffee pot off or purposely leave it on all the time, you should get used to the idea of the automatic shut off feature that this particular pot is equipped with.

After 20 minutes of a pot of coffee being ready, the brewer will automatically turn off. Now, if you're like me and, upon hearing that, panicked over the fact that your third cup of coffee would no longer be warm by the time you got to it, calm down and take a breath.

I've come to realize why this feature is there in the first place: the longer the coffee sits in the pot on the warming plate, the more burnt or bitter it starts to taste. So really, this mildly annoying feature is quite helpful. 
To combat this small issue, all you have to do is make less coffee at one time. You may need to make another small pot if you finish the first, however, each cup will taste as good as the first. 
One thing that I noticed about turning the machine on and off is that it beeps surprisingly loud. The volume of the beeps was quite shocking the first time it powered on, but I quickly got used to it and now I hardly even notice it. This isn't a deal breaker by any means, but it's definitely something that I would have liked to know before trying the machine out. 
Going with this, you can also program the Smeg to turn on at a certain time. This way, your coffee can start brewing before you even get out of bed! 
LED Display
As you can see from looking at the photos, the Smeg is a digital coffee brewer. In other words, it's very simple to use. All of its information is shown on the LED display, which has a handy little backlight that isn't too bright and does  a good job of resisting glare. 
On the display, you'll find all of the information you need to keep your coffee brewer running efficiently. Here, you'll be notified if your water is too hard for the pot, the water level inside of your brewer, the time, and both the "keep warm" and "aroma intensity" functions. 
Extras
In addition, I think it's important to mention that although the brewer is relatively large in size, it only holds 4 cups of coffee per pot. It also needs frequent descaling and, in my opinion, is quite fussy about the water levels and hardness, requiring minor adjustments every so often. 
The Pros and Cons of the Smeg Coffee Maker
Pros:
Automatic-shut off feature
Looks great in any kitchen
Available in a variety of colors
Keep Warm feature
Features anti-slip rubber feet for stability
Guaranteed not to burn your coffee
Fully digital LED display
Cons:
Takes up a lot of counter space
Small pot size
Makes a lot of noise when turning on or off
Final Thoughts
All in all, there really isn't anything terribly wrong with this brewer. If you can make minor changes to the way you make your coffee and how much you make at one time, you'll find that your coffee needs are satisfied.
All of the downsides we mentioned are minor, with most of them just being annoyances and nothing that's actually going to matter in the long run or affect the way the machine works.