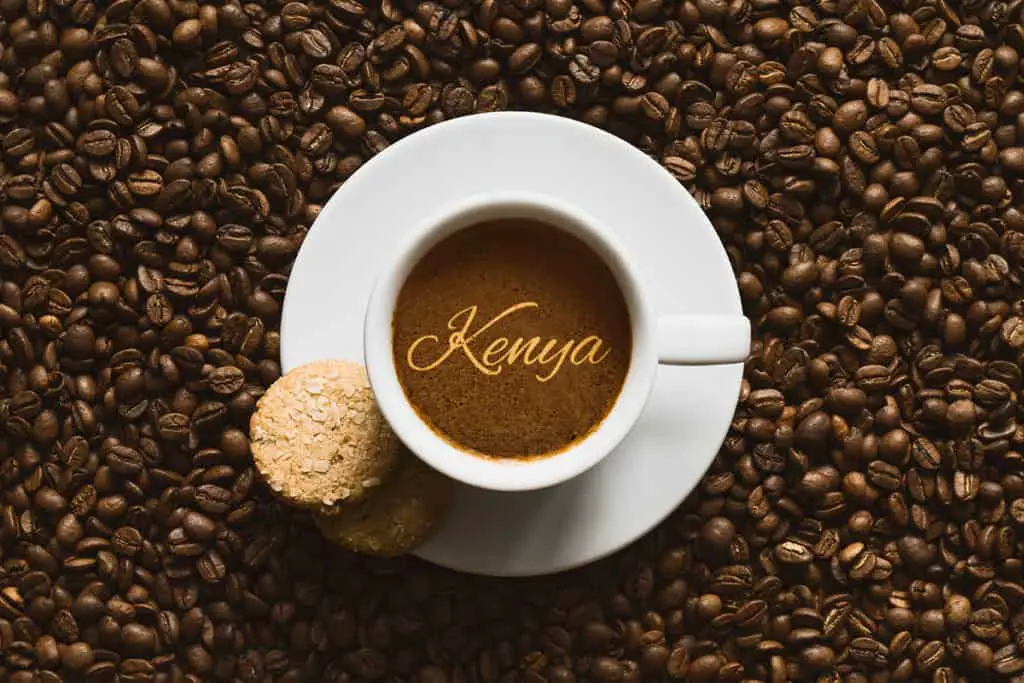 Kenya is a country that produces coffee from unique growing regions found in few other places in the world and has a distinctive floral taste profile found nowhere else.
Kenya Coffee has a reputation of being some of the highest quality and best tasting coffee in the world today. But what makes the coffee from Kenya so good and such high quality as many coffee professionals say?

This guide is going to cover everything about Kenyan coffee. From its rich history, unique growing regions to the original coffee processing methods, and distinct flavors.
It is, without a doubt, extremely high quality coffee. Whether or not that means that coffee from Kenya is for you is another matter. Read on to learn a little more about coffee from Kenya and whether its taste profile fits what you're looking for in your next cup of coffee.
History of Coffee in Kenya
Coffee was introduced in Kenya in 1893 when missionaries imported Bourbon coffee from Brazil. It was first grown at Bura in Taita Hills then under irrigation at Kibwezi in 1900 and at Kikuyu in 1904. Kenya was at the time controlled by Britain and was known as the East Africa Protectorate. The British, therefore, controlled agriculture in the region, which included coffee growing.
Now, all crops were to be grown by the white settlers, and natives were to provide free or cheap labor. At first, there were no regulations on crop farming, production, processing, grading, and marketing.

So coffee marketing was handled by rudimentary institutions between 1900 and 1933, which is when the colonial government established a Coffee Board (CB). The board was responsible for coffee licensing, inspection, and promotion.
The following year, 1934, auctions were established as a means of selling Kenyan coffee. The first auction took place in September 1935. More than a decade later, a Coffee Marketing Board (CMB) was established in 1946 to cater for coffee marketing activities.

It became fully operational on July 1, 1947, and later abolished in 1971. Coffee marketing, therefore, became the responsibility of the Coffee Board of Kenya (CBK).
The role of CBK has changed over time through various amendments. In July 2001, a new Coffee Act was enacted, establishing the board as a statutory body under the Ministry of Agriculture. The Act specified new roles for CBK (currently the Coffee Directorate under The Agriculture, Fisheries and Food Authority (AFFA)) which include:
Formulating policies to enhance coffee production, processing, and local and global marketing
Registration and licensing
It was until after the Mau Mau Uprising (1952-1960) that locals were allowed to grow coffee. Regardless, there were still government restrictions in place on how many crops one could grow and the coffee-making process.
All the coffee had to be centrally processed and marketed. And usually, the best coffee was exported, leaving low-grade coffee to be sold locally.
Where in Kenya is the Coffee Grown?
Most of Kenya's coffee is grown in areas with an elevation ranging from 1,400 to 2,000 meters above sea levels, temperatures ranging from 15°C to 24°C, and deep volcanic soils. These include:
Mt Kenya regions like Murang'a, Kirinyaga, Nyeri, Thika, and Kiambu
Rift Valley namely Nandi Hills
Western Kenya regions such as Bungoma and Mt Elgon
Eastern regions namely Embu, Meru, and Machakos
Today, coffee farmers in Kenya can grow, process, sell, and consume whatever amount and quality of coffee they desire. The two species grown are Arabica and Robusta.
However, it's Arabica coffee that has put Kenya on the map owing to its pleasant aroma and its rich flavors. It is also the most produced, with over 99% of Kenyan coffee being Arabica.
Coffee Production in Kenya
Kenyan coffee is mainly grown by small scale farmers under various co-operatives. It is also grown in small, medium, and large coffee estates, i.e., individually managed coffee plantations.

There are about 115,570 hectares of land dedicated to coffee production across 32 counties. And an estimated 6 million Kenyans are involved in the country's coffee industry, including about 800,000 smallholder farmers.
Kenyan coffee is usually grown in rainfed farming systems. However, some large estates have established irrigation systems.

A majority of the crops are grown without shade, but shaded coffee is becoming increasingly popular as it helps combat the effects of climate change. Research to determine the appropriate shade trees is currently ongoing.
Coffee Seasons and Processing
There are two coffee harvest seasons in Kenya: April to June and October to December. During which time, auctions are held each Tuesday at the Nairobi Coffee Exchange.
Once harvested, Kenyan coffees are carefully processed then graded. About 90% of the coffee is wet-processed at washing stations while the rest gets dry-processed into mbuni, i.e., dried coffee that has not undergone pulping.
When the coffee arrives at a station, it undergoes sorting before processing to separate the ripe, unripe, overripe, and diseased or damaged cherries as well as to remove dirt, leaves, and other foreign materials.
The unripe cherries are sundried on tarps and beds then processed into mbuni. Whereas, the ripe cherries are passed through a special pulper then classified by their density into three categories: parchment 1, parchment 2, and lights. Next, the beans are fermented, washed, and soaked separately before being dried on different beds. The coffee parchments then get transported to a dry mill, where it undergoes the following stages:
Hurling and Destoning
The wet-processed coffee is carefully checked for stones and other impurities before being hulled and polished to remove the silver skin.
Pneumatic Separation
An air jet separates the light beans from the heavy ones and removes any residual impurities and husks.
Grading (sizing)
Coffee beans are sized by being passed through screens, which are metal sheets with specifically sized openings. Screens used for peaberries, for instance, have oblong holes which match their elongated shape. Now, coffee sizes are known as grades.

Kenyan grades are:
E (screen 20)
PB (screen 12)
AA (screen 18)
AB (screen 16)
C (screen 15/10), T, TT, and MH/ML
Kenyan AA is considered the best grade.
Density Sorting
The process is performed by a densimetric table, which separates the coffee into three or more densities. The separation results in the denser beans moving to the upper end of the table while those that are lighter remain at the lower end.

Density sorting is essential for even quality coffee roasting since smaller and lighter coffee beans tend to roast faster than denser and larger ones.
Color Sorting
The service involves optical machines that can scan every single bean at high speeds. The coffee beans are either allowed to flow downward or shot with a burst of compressed air into a reject pile.
Hand Sorting
Coffee beans are also sorted by hand to remove those that are unsatisfactory due to deficiencies such as unacceptable size or color, insect-damaged, unhulled, et cetera that are undetectable by machines. Dry mill, therefore, may also include hand sorting to enhance effectiveness.
Quality Control
Other than through physical appearance, mills and exporters also determine the quality of coffee by evaluating its aroma and flavor profile in a process known as cupping. Cuppers (professional coffee tasters) should write down their observations of the coffee's sensory attributes after each test.

Cupping not only identifies the coffee's characteristics and defects but also helps create coffee blends. Expert cuppers can taste hundreds of coffee samples a day and still detect the subtle differences between them.
Coffee Flavor
Kenyan coffee is known for its consistent rich flavor and deep, winey acidity and fragrant aroma infused with fruit and berry tones. The "Connoisseurs Cup," a term given to Kenyan coffee, has a resonant cup presence characterized by strong flavors with a dry, lemony zest or winey aftertaste. Its distinctive taste is similar to Ethiopian Harrar, except Kenyan coffee has a more full-bodied richness.
Quality Kenyan coffee is clean and crisp, and typically well balanced in regards to taste, acidity, mouthfeel, and aftertaste. You may detect lemony citrus, pepper, and blackberry tones. Kenyan coffee enthusiasts also appreciate the sublime, even intoxicating black currant undertones in the flavor and aroma.
Kenyan Coffee Marketing and Exporting
In Kenya, green coffee (milled coffee) gets marketed through a central auction and direct sales. The Nairobi Coffee Exchange Management Committee administers the auction. Coffee marketing agents who have been contracted by coffee growers sell the coffee to the highest bidders among licensed coffee dealers (exporters). Bids are made per 50 kg bag.
As for direct sales, grower marketers export coffee through direct sales where they negotiate prices with the buyer(s) in the destination country. Grower marketers are coffee growers that are licensed to market their coffee directly to overseas buyers.

In some cases, marketing is facilitated by contracted commercial marketing agents who draw up sales agreements between producers and buyers as well as handle other marketing logistics.
After purchasing the coffee, buyers incur additional costs related to its preparation for export as well as its transportation. The coffee is usually packed in single sisal bags and loaded into film lined containers ready for shipment.

Buyers may request to have the green beans roasted and ground to fine coffee. But note, green coffee, unlike roasted coffee, is exempted from export duty or tax since it is considered a raw material.
Some of the top coffee exporters in Kenya include Dormans,  Kenya Co-operative Coffee Exporters Limited (KCCE), Rockbern Coffee Group, Mwangi Coffee Exporters, Rashid Moledina &Co. Ltd, Sannex Coffee, Africoff Trading Co. Ltd, and Diamond Coffee Company Ltd.
Here is a performance of Kenyan coffee exports from 2012/13 to 2017/18
| | | | |
| --- | --- | --- | --- |
| Coffee Year | Net Weight – Kg | FOB Value (US $) | Value (Ksh) |
| 2012/13 | 49,031,461.31 | 217,018,127.61 | 18,209,676,550.66  |
| 2013/14 | 47,175,294.11 | 228,426,961.63 | 19,733,013,644.91 |
| 2014/15 | 44,064,026.78 | 223,385,715.01 | 21,010,597,868.28 |
| 2015/16 | 44,342,470.01 | 205,674,854.90 | 20,893,006,028.47 |
| 2016/17 | 43,378,724.78 | 227,827,991.12 | 23,468,566,737.90 |
| 2017/18 | 43,289,615.31 | 229,514,404.53 | 23,307,949,319.83 |
Then below is a table showing the top five Kenyan coffee export destinations for the coffee year 2017/18.
| | | | |
| --- | --- | --- | --- |
| Destination | No. of 60-kg bags | FOB Value | % |
| Germany | 113,636.96 | 36,502,289.25 | 15.75% |
| United States | 113,421.78 | 42,026,682.39 | 15.72% |
| Belgium | 101,235.22 | 31,370,405.96 | 14.03% |
| Korea | 87,111.00 | 25,129,162.36 | 12.07% |
| Sweden | 58,823.83 | 20,020,999.94 | 8.15% |
How to Brew Kenyan Coffee
The irony is that Kenyans are not heavy coffee drinkers, as they prefer tea. There is, therefore, no popular traditional method of brewing coffee in the country.

However, elderly Swahili men from the coast of Kenya, have in the past few decades adopted a coffee-drinking culture with "kahawa chungu" being their go-to coffee. They brew the beverage in a tall brass kettle over a charcoal stove.

Kahawa chungu is Swahili for bitter coffee. The bitterness results from the addition of ginger, cinnamon, cardamom, among other spices.
For the best coffee experience, try steeping methods like French Press and Aeropress as they bring out the maximum flavor of the coffee. Additionally, Kenyan coffee beans are considered among the best for cold brewing. With cold brewing, you steep ground coffee in cold water for 18 to 24 hours before straining out the grounds.

If you don't have a French press, a mason jar or fine sieve will still get the job done. Cold brewing coffee preserves its subtle floral and fruity notes, meaning it enhances the juicy flavors of Kenyan coffee that give it potent sweetness.
Final Thoughts
Kenyan is among the largest coffee producers in the world. The country's Arabica coffee is globally renowned thanks to its delicious, rich flavors and pleasant aroma. So if you are looking for coffee that will appease your taste buds, Kenyan coffee fits the bill. Even blenders and roasters around the world use it to boost the quality of their blends.