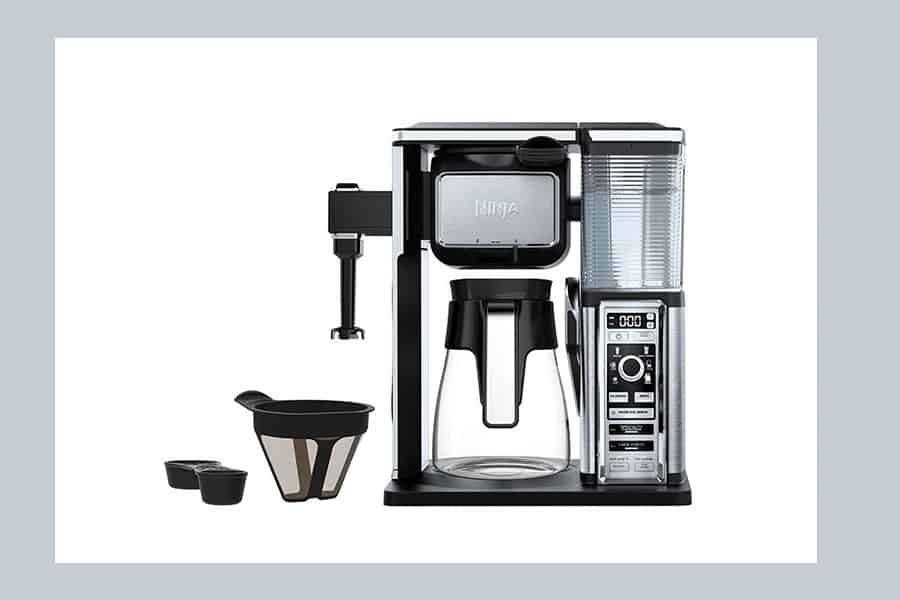 The Ninja Coffee Maker has far superior quality than other cheaper brands. It is a pod-free single serve and carafe system that makes specialty coffee drinks. Overall the Ninja Coffee Bar is well worth the price.
You may have heard or seen from friends around town, colleagues at work or from product advertising about the multi-functional Ninja Coffee Bar.
The versatile design and engineering accomplishment of the Ninja Coffee Bar with Glass Carafe is impressive, where even the most discerning coffee connoisseurs will be delighted at the results.
The Pros and Cons of the Ninja Coffee Brewer
Pros
Technology for specialty brewing and sizing that works well
Integrated built-in frother that works great
Design that is reasonably compact for all it does
Affordable for what you get
Cons
Specialty brew isn't espresso but espresso-style; just fine for your latte or cappuccino
Design is a bit tall so needs height space (unit measures about 15″ tall, 10″ wide, 11″ deep)
Some may perceive the brewing to be comparatively too slow
While affordable, lots of plastic parts
Whats included with the Ninja Coffee Maker?
10-Cup (43-50 oz., depending on model) Glass Carafe
20-Recipe Inspiration Guide
Permanent Reusable Filter (you can use paper filters instead if you prefer)
Precise Temp warming plate (don't burn your coffee after prep!)
Removable Water Reservoir
Built-In Integrated Frother
Ninja Smart™ Scoop Measuring Tool
Flip-down cup holder for shorter cups
What Are The Features of the Ninja Coffee Maker?
A strikingly unique offering of the Ninja Coffee Bar system is the variety of brew types and sizes that don't seem to be available with other systems, and the recipe collection is inspiring and brings up new coffee ideas to enjoy if you're feeling a little uneasy about how to use the system to its real potential.
For instance, who would have thought about doing cold frothing! While it may take some reading and a few tries to get used to it, the system is pretty easy to use, and you'll soon be branching out trying new things with the Ninjas' components and recipe ideas.
Coffee Bean Extraction
Behind the fancy technology name of the Ninja's "patent-pending Advanced Thermal Flavor Extraction® Technology" is the ability to access the coffee beans' full flavor potential with different ranges of desired richness.
There's the Classic Brew that results in your classic smooth and balanced flavor, and the Rich Brew that intensifies the coffee beans' flavor to added creamer, milk or flavorings, and the Over Ice Brew is impressive with its iced coffee that doesn't taste weakly brewed, diluted or watered-down. 
The Specialty Brew of the Ninja Bar
But it's really the Ninja Signature Brews — Cafe Forte and Specialty – that are a huge selling point for home brewers. The Cafe Forte Brew offers a more full-bodied or robust gourmet brew to pull out coffee beans' more complex flavor profiles.
The Specialty Brew provides a deeply rich and concentrated brew that works well with frothed milk that can be layered and combined, both hot and cold, like your traditional specialty coffeehouse-style indulgent masterpieces. 
Still, it's not espresso since there is not the mixing of coffee grounds and water under pressure, where espresso industry standard is to brew with at least 9 bars of pressure. But the Ninja Specialty Brew pre-infuses coffee grounds with water for their optimal extraction.
It takes a bit longer to run through this (about 60 seconds) and the result is notable. And for your Café Forte and Specialty Brews, the frother allows you to froth right in your standard sized mug or cup so there aren't extra pouring steps or soiled cups.
The Science of Coffee to Water Ratio
The Ninja Coffee Bar® System has what's called the Auto-iQ® One-Touch Intelligence Technology that pull the right amount of water from system's reservoir for your coffee choice of brew size and type. Using the right amount of water is crucial to striking the correct balance for your desired strength of the brew. 
The Practice Of Patience
Relative to other brewing systems, the Ninja is a slow brewer in that the single cup size takes about 4 minutes to prepare, and the full carafe about 8 minutes. Also, be aware that a full brew is required to heat up the Ninja system components, so any subsequent second and third brews will be hotter than your first brew.
Some people suggest pre-heating your first brew mug with hot water (then pour out before your brewing!) to help your first cup coffee retain heat. If your single or full carafe take longer than the respective 4 and 8 minutes, try running a descale cleaning cycle.
Why Is Cleaning Required?
Some people are intimidated or frustrated with the cleaning required of the Ninja system.  The cleaning and descaling of the unit can seem like a bit of an undertaking, but if you follow the instructions, don't delay the cleaning regimen and make cleaning the unit just another habit, it's easy to incorporate.
Keep in mind that darker roast coffee beans release a lot of oils that coat the beans and end up in the grounds. It does take some special work effort and cleaning product to be sure you're getting rid of the oil residue so everything will be working properly in the system.
Ever watch the Starbucks people cleaning their units? So, keep that in mind if you're considering this unit — there's no magic wand for cleaning it.
Consider it a small effort to commit to for the ability to enjoy pod-free single-serve and carafe coffees, brewed however you want and with whatever coffee brand you choose, being able to adjust the quantity of grounds you want. The Ninja Coffee Bar really does provide unlimited coffee drink variety and customization.
Cleaning After Brewing
Cleaning your unit after a brew, and when no CLEAN indicator is on, is simple and similar to what you might be used to with other coffee units.  Start by closing the Drip Stop.
Once a brew is complete and grounds have cooled, remove the grounds. If using the permanent filter, remove it and the filter holder carefully and wash it remove and wash with soap and warm water.
If you've used the frother, rinse the frother whisk thoroughly.  It can also be placed in a dishwasher top rack.
Wash the carafe and brew-through lid with soap and warm water, using a flexible sponge to reach all areas or using a non-wire bottle brush or cloth to wash the inside of the carafe.
Use a cloth with some soap and warm water to wipe down the machine, being sure the warming plate it cool first. Using soap and water, clean the Ninja shower head, water reservoir shelf, flip-top water reservoir lid, water reservoir, and filter holder.
Cleaning the Ninja Coffee Maker
And speaking of cleaning and descaling, according to the manufacturer's instructions, "Cleaning your brewer regularly is very important. To ensure you're receiving the best possible coffee from your Ninja Coffee Bar®, clean your brewer whenever the CLEAN button illuminates…" 
Try not to be intimidated, and just follow the step-by-step instructions to clean and descale your unit.  The Clean button will light when your Ninja Coffee Bar® is sensing buildup in your machine.  Be sure your unit is cool before starting the cleaning cycle.
Follow the cleaning instructions below to clean & descale your Ninja Coffee Bar.

NOTE: Pressing the CLEAN button again during the clean cycle will cause the machine to brew through all remaining cleaning solution; however, your machine will not be properly descaled.
How do you Clean and Descale your Ninja Coffee Bar?
Select the Full Carafe size and set the empty carafe beneath the brew basket.
2. Use a descaling solution specifically formulated (Recommended) for coffeemaker cleaning and follow the directions on the package. Fill the water reservoir up to, but not exceeding, the Max Fill line (50 oz.). OR Fill the water reservoir to the Travel Mug line (16 oz.) with white vinegar, then fill the rest of the reservoir with water up to, but not exceeding, the Max Fill line (50 oz.). IMPORTANT: Use only white vinegar.
3. Once the water reservoir is filled with your cleaning solution and water mixture, press the CLEAN button.
NOTE: The clean cycle takes approximately 60 minutes.
4. A 1-hour timer on the clock display counts down the remaining clean cycle time, flashing between the remaining time and "CLn". Your Ninja Coffee Bar will deliver a small amount of cleaning solution to distribute it through the system. It will then pause for a half an hour, deliver additional cleaning solution, and pause for another half hour.
CAUTION: DO NOT remove carafe at any time throughout the clean cycle. DO NOT press any buttons during this 1-hour period, as this will cancel all progress of the cleaning.
5. After one hour, your Ninja Coffee Bar will discharge the remainder of the cleaning mixture into the carafe. Upon completion, the Ninja Coffee Bar will beep, and a flush message ("FLUS"/"LUSH") will appear on the clock screen for a 15-minute timeframe.
6. Empty and thoroughly clean the carafe and water reservoir by following the cleaning instructions in the Care & Maintenance section of this Owner's Guide. This removes any cleaning solution that could affect the flavor of your coffee.
7. Fill the reservoir with fresh water up to, but not exceeding, the Max Fill line (50 oz.) and set the empty carafe beneath the brew basket.
8. Within the 15-minute timeframe, and while the clock display reads "FLUS"/"LUSH", press the CLEAN button once to begin the Flush stage. The Flush stage takes approximately 8 minutes.
NOTE: If you miss the 15-minute Flush message on the clock display, or the CLEAN button was pressed twice during this timeframe canceling the Flush stage, run a Full Carafe, Classic Brew cycle with water only (no coffee grounds) to rinse any residual descaling solution out of your machine.
9. Upon completion of the Flush stage, the CLEAN light will turn off. Discard the water in the carafe, and thoroughly clean it to remove any cleaning solution that could affect the flavor of your coffee.
NOTE: If taste remains affected by the cleaning solution, please run a Full Carafe, Classic Brew with water only (no coffee grounds).

NOTE: If the CLEAN light illuminates again, then calcium scale buildup is still present. Repeat the steps above and the CLEAN light will automatically shut off when your brewer is clean. If the problem persists, consider using the Enhanced Clean Cycle. Descaling solution can be found on Amazon
Tips For Better Ninja Coffee Bar Performance
Some final helpful tips for you. Since the Ninja doesn't use pre-measured coffee pods, changing the coffee grind volume and grind size is at your discretion. If you are finding that your coffee result is too strong for your preference, use a coarser grind or fewer coffee grounds. Try the opposite if your coffee is tasting too weak.
If you're struggling with the cleaning directions, there are plenty of good Ninja cleaning and descaling How To videos available online. Look for the ones that are favorably reviewed before spending your time watching them or you can check out Ninja's own descaling video as they do a much better job at visually explaining it:
Final Thoughts
If you can believe the self-promotion on Ninja's website, this company makes the highest quality and most innovative coffee brewers available on the market today. But are Ninja Coffee Bar's really as high quality as their advertisements claim?
They are, without a doubt, extremely high-quality coffee brewers. Whether or not that means Ninja makes the coffee maker that's right for you is another matter. These coffee makers are definitely worth exploring if you're looking for a coffee maker that is well-made and no-nonsense with its available options.
The Ninja Coffee Bar with Glass Carafe, which can be found on Amazon (of course) is truly a remarkable innovation, providing a variety of customized coffee drink capabilities with exceptional quality and special attention to details like frother system, the adjustable warming area, the ice coffee option, and more.
The Ninja Coffee Bar with Glass Carafe offers unlimited coffee drink variety and customization, but you'll need to be committed to cleaning the system on queue.
Keep in mind there may be a learning curve for you, and try to be patient about longer brewing times, and the commitment you'll need to stay on top of when the CLEAN light illumines.  Take care of your Ninja Coffee Bar and it will surely take care of you!