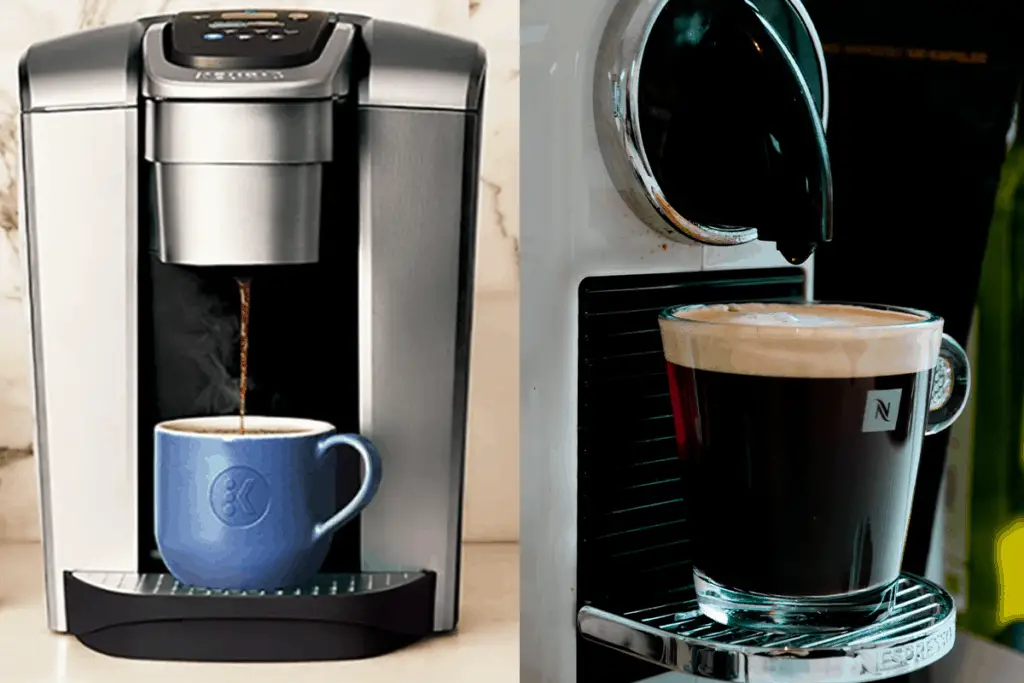 Keurig and Nespresso differ in several ways. Keurig machines are designed to work with K-cups, which are pre-packaged coffee pods. Nespresso machines, on the other hand, use small aluminum capsules filled with pre-ground coffee beans, which are inserted into the machine. Keurig machines also use a hot water dispenser to brew the coffee, while Nespresso machines use a high-pressure pump to extract the coffee.
Did you know that one in four American households owns a single-serve coffee maker? Just about all of them are made by either Nespresso or Keurig, the two biggest names in the coffee pod world.
These machines allow even novices to make coffee like a pro—just pop in a pod and press a button, and you'll get a freshly brewed cup of joe in a matter of seconds. But what exactly is the difference between the two brands and which one makes the best investment?
Read on to find out how they compare before deciding which one will make its way into your home coffee bar.
The Origin of Keurig and Nespresso
Nespresso and Keurig are both single serve coffee makeresthat are both well made and well designed but still have plenty of differences that make them distinctly different from each other.
So you how do you know which one is best for you and your house? Lets compare the Keurig and the Nespresso machines in detail so you are able to make the best choice for your coffee requirements
Origin of Nespresso
Nespresso Is a Switzerland-based subsidiary of the Nestlé Group. Established in 1986, it's the world's oldest brand of single-serve coffee making machines. Although Nespresso is a household name across Europe, it has less presence on the American market.
Origin of Keurig
Keurig is the biggest single-serve coffee brand in the US, is a part of the third-largest beverage company in North America, Keurig Dr Pepper. The first commercial Keurig coffee machines were made in the early 1990s, but the models intended for home use were launched in 2004.
What are the differences in the Styles of Coffee Maker?
Nespresso coffee makers fall into two broad categories: the OriginalLine and VertuoLine. The VertuoLine single-serve coffee machines, introduced in 2014, are the most popular and the most frequently used ones.
This line was designed in collaboration with Beville specifically for the North American market. While the OriginalLine machines can only brew small espresso drinks, Virtuo pod brewers offer larger coffee servings preferred by the Americans. 
With over fifty different models, Keurig has a wider choice of coffee brewers than Nespresso. The K-Select coffee maker, with its user-friendly interface, a large water reservoir, and many customization options, is the most commonly found Keurig pod brewer in kitchens across the country.
How are the Brewing Methods Different?
Nespresso coffee comes in hermetically sealed capsules that ensure supreme freshness and taste. Vertuo machines scan the pods' barcodes and adjust the temperature and time settings to get a perfect cup of coffee each time.
They use advanced centrifusion technology—a combination of centrifugal force and infusion where water is spun through a capsule 7,000 times a minute to "infuse" it with ground coffee. 
Keurig K-Cups are nitrogen-sealed plastic pods with aluminum lids and a filter that keeps grounds from getting into your cup. Once inserted in the coffee maker, the pod is pierced at the top and bottom. The water is then forced through, yielding a result similar to drip coffee.
What are the different Coffee Brewing Options?
True to their European roots, Nespresso machines are created to make espresso and espresso-related drinks, although some models brew coffee too. The VertuoLine models use seventeen different types of Nespresso-branded pods.
While the selection may be limited, it consists of some exceptional coffees like Ethiopian Bukeela, Colombian Rosabaya, Brazilian Dulsao, and Indian Indriya, in addition to flavored coffees and limited edition drinks. 
Conversely, espresso is the only type of coffee that a Keurig can't make. Instead, you'll get endless options of warm drink flavors ranging from seasonal roasts and teas to hot chocolate, hot apple cider, and even Campbell's soup.
Keurig partners with 60 brands licensed to produce K-Cups including Celestial Seasonings, Green Mountain, Starbucks, and Donut Shop and offers more than 400 drink varieties. So if you want anything else than espresso-based coffee, a Keurig coffee maker may be a perfect fit. 
How are the Cup Sizes different?
The VertuoLine machines accommodate five cup sizes: espresso (1.35 oz), double espresso (2.7 oz), gran lungo (5 oz), coffee (8 oz), and alto coffee (14 oz) perfect for travel mugs. The water tank capacity is 40 oz. 
Keurig coffee brewers have four cup size settings, allowing you to make 6, 8, 10, or 12 ounces of your favorite beverages. Their tanks can hold 52 ounces of water, enough for about 9 cups of coffee.​ 
What are the different Designs and Features?
The Nespresso VertuoLine boasts elegant and solid machines built in Switzerland. Nespresso's partnership with manufacturers such as Breville, Philips, and De'Longhi gives them access to top-quality materials and cutting-edge design for their coffee makers.
Besides, Nespresso pod brewers are simple and intuitive to use. The capsules fall automatically into a built-in drawer so you don't have to replace the hot pods by hand. Most VertuoLine models come with a milk frother for brewing milk-based coffees.
Keurig single-serve machines are somewhat less robust and stylish. They also take up more countertop space, partly due to their larger reservoirs and are not ideal for smaller kitchens.
However, Keurig coffee makers are equipped with a variety of useful features, including Quiet Brew Technology, Strong Brew for more intense coffee, fingerprint resistant materials, and auto off setting.
Do they have the same Environmental Impact?
Through its sustainable quality program, Nespresso actively participates in improving the global sustainability of the coffee industry. The pods are made of recyclable aluminum and biodegradable food-grade liner. You can return them to collection points in Nespresso boutiques, TerraCycle collection points, or send them back via UPS in free mailing envelopes through the brand's mail-back program. The newest machine model Vertuo Next is made from over 50% recycled plastics. 
One of the main criticisms of Keurig is its negative environmental impact. Keurig K-Pods are made of plastic bodies, aluminum tops, and paper filters that are nearly impossible to recycle. The company is currently transitioning to recyclable K-Cup pods and is planning to have all their pods recyclable by the end of 2020. 
What is the difference in price?
Nespresso VertuoLine coffee maker prices range from $150 to $300 for higher-end models. Coffee pods cost on average $11 for a sleeve, and you will pay anywhere between $0.90 and $1.35 per serving.
Keurig is a more accessible brand that comes with a wider price range to suit most budgets. Their coffee makers retail for $80-$170 with plenty of models that cater to different needs.
The price of Keurig K-cups varies from $5 for a box of 12 for lower quality pods to $11 for a box of Starbucks coffee. A serving costs between $0.35 and $0.65. You can cut on your coffee pod expenses even further if you buy reusable pods and ground coffee to brew your favorite beverage. 
Which One Should You Choose?
Both Nespresso and Keurig are excellent single-cup coffee making machines and which one you choose will depend on your coffee preferences and your budget.
What really sets the two brands apart is that Nespresso brews top-quality espresso and espresso-based coffee types, whereas Keurig offers a huge variety of flavor options. Keurig machines are somewhat cheaper, while Nespresso offers exclusive, high-quality coffee makers that give better brews.
They make rich, aroma-filled coffee that simply tastes better. However, if you are looking for a cheaper and more versatile coffee maker that will make any type of hot drink you can imagine, Keurig machines are unbeatable. 
Choose Nespresso:
You like espresso and espresso-based drinks like latte or cappuccino
You're willing to pay more for quality coffee
You want a more durable machine
You're interested in a sleek and elegant design 
Choose Keurig:
Your priority is to buy an affordable coffee maker
You are not a huge espresso fan
You like having a large selection of coffees, teas, and other drinks.